Mondo TV highlights expansion into new entertainment areas at BLE
New web shows, eco-adventures and plush toys as well as animated hits at B161
Mondo TV, one of the largest European producers and distributors of animated content, will be highlighting its confident expansion into new licensing and broadcasting areas as well as its continuing strength in animation and children's entertainment at this year's BLE.
A strong portfolio, featuring many established successes and an impressive slate of upcoming hits, will be on display at stand B161, where the stand's main emphasis will be on five properties in particular that show the strength and depth of Mondo's expanded offering: Feisty Pets; MeteoHeroes; House Of Talent: the web series; Robot Trains; and Yoohoo.
The stand will also highlight a major strategic cooperation agreement with kids and family entertainment venture Toon2Tango GmbH & Co.
Feisty Pets, for which Mondo TV is the Italian and Iberian sub-agent, working with the global licensing agent Surge Licensing, are interactive plush toys – with a difference. They look cuddly and cute but transform from friendly to ferociously funny when squeezed. This simple but skilfully executed concept has been a massive hit online, in the media and at retail; the line, now totalling some 80 characters, has sold in the millions.
Feisty Pets already has a global master toy partner (Jazwares) and a master English-language publisher (Scholastic). In Italy Feisty Pets toys will be distributed by Giochi Preziosi, with which Mondo is working to build a robust retail strategy for the launch, which is planned for the 2019 back-to-school period. Publievent will produce Feisty Pets-themed shopping mall events throughout Italy from October this year. Nice will produce a number of Feisty Pets-branded fashion accessories for girls, to be launched in 2020. In addition, the licensing and merchandising programme includes Clementoni for puzzles, Edicart for books, and Mondadori for magazines. There's also a strong focus on food and confectionery, FMCG, stickers and collectible cards, and many other categories for this phenomenally popular property. A similar strategy applies in Iberia where the master toy launch will reach shelves by spring 2020 and the first licensed products will follow soon after. Mondo has signed Karactermania for the back-to-school and stationery categories and Penguin Random House for a wide range of books.
MeteoHeroes is a Mondo TV co-production with Meteo Expert Center – Italy's leading weather forecasting group. Featuring six superhero kids who work together to prevent pollution, global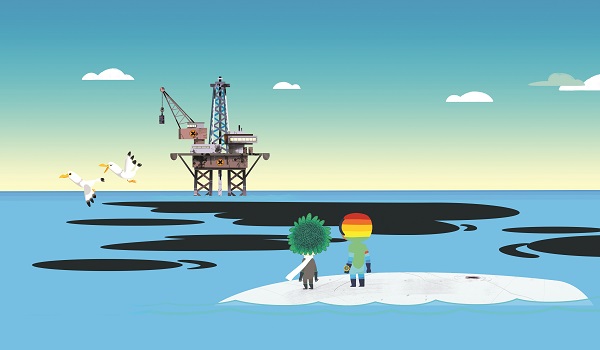 warming and climate change, the series aims to offer 4-7-year-old kids fun and excitement but also to help them better understand environmental issues and what they can do to help the planet.
With this in mind, MeteoHeroes is a multifaceted project: a compelling 52 x 7' series scheduled to premiere in spring 2020, an information-packed website, and a content-rich app. Its aim is to inform, educate and inspire – and of course thrill, amuse and entertain! Mondo TV's plan for the licensing campaign is not just to deliver fun products but products that are sustainability-friendly (a theme of the show) with, for example, plastic packaging replaced with compostable paper. The show has already gained the patronage of three important Italian public institutions – the ministries of the environment and education as well as Legambiente, a leading Italian environmentalist association. It has also received numerous letters of support and endorsements from international weather forecasting centres in the US and Europe.
This unique and appealing concept is also proving appealing to potential licensees. Favourable market feedback has boosted a licensing programme that is attracting major European companies active in a number of categories, who see in MeteoHeroes not just a high-quality project but the chance to play their part as ambassadors in the fight against climate change.
House of Talent is a crew of over 20 talented online influencers aged between 13 and 19 and boasting more than half a billion monthly impressions that has also inspired two novels (with more to come) and multi-venue fan meet and greets that have attracted over 80,000 fans since the beginning of 2019. And of course there's the 260 x 13' House of Talent Web Series beginning in September, in which fans can see their influencer idols in a whole new way! The idea behind the web series stems from the desire of the House of Talent creator Matteo Altieri to transform the brand from a real media grown up across social media platforms to storytelling. What also makes this such an original project is that it doesn't involve acting; presenters and guests are themselves, testing their talents in different areas such as cooking, science, fashion, music and more in the rooms of a real house!
As a YouTube-based series, House of Talent will involve a completely different approach to licensing. The role of influencers and marketing of products used during the show by these popular young talents will inform some of the approaches to licensing, but the unique format will also offer a number of new opportunities for licensing partners.
A second season of Robot Trains, the exciting animated series for children aged between three and five years, is rolling out across Europe, and a third season (52 x 11 eps) has been announced with a launch date of autumn 2020 for the first 26 episodes of series three. Season three of Robot Trains is a first for Mondo TV, which was the distributor and licensing agent of series one and added co-production to its portfolio for series two. For series three, Mondo TV will be in charge of the whole production, with an ownership stake of 90% in the new series. CJ E&M will retain ownership of the original property and have a 10% stake in the third season.
Mondo TV will continue to take care of distribution worldwide (except Asia but including China) for both audiovisual rights and licensing and merchandising. CJ E&M will take care of the distribution of the new show in Asia (except China).
The themes and storylines of series three are still under wraps but the introduction of new characters, concepts and locations in series two is proving very popular with broadcasters and more innovation can be expected for series three of this highly successful show.
Robot Trains is now firmly established as a long-term licensing prospect with licensing activity now strong in many territories, where Silverlit's toys, as well as confectionery and snacks, books, puzzles, confectionery decorations, live characters and events, stickers and trading cards, carnival costumes, personal care products and paper handkerchiefs, are just some of the items in shops or soon to appear at retail. This year has also seen the launch of the innovative new Robot Trains augmented reality app that works with product from Robot Trains licensees and allows kids to play games and experience live interactions with their favourite characters.
YooHoo to the Rescue is the first-ever Netflix Original Series from co-producers Mondo TV and Aurora World. This is a new 3D CGI 52 x 11' children's series based on the globally successful line of Aurora World YooHoo
plush toys, more than 80 million of which have been sold since the worldwide launch of the line in 2007. This is a funny, exciting and beautifully designed animated series with strong environmental themes, in which YooHoo and his friends, Pammee, Roodee, Chewoo and Lemmee, confront threats to nature and wildlife and meet many different endangered animal species.
YooHoo to the Rescue has been available worldwide from March 2019 exclusively on the Netflix platform. Starting from April 2019 the series premiered exclusively on free-to-air channels in Italy (Frisbee), Poland (TVP ABC from September 2019), Russia (Carousel from July 2019), and Portugal (Canal Panda from autumn 2019). With the recently confirmed news that Spain's Clan TVE will premiere episodes 1-26 of YooHoo to the Rescue in prime time starting in autumn 2019, and that Frisbee (Italy) will be launching new episodes in October preceded by reruns of the first series, awareness of this engaging and magical show is set to be greater than ever in 2020.
Licensing activity is also strong, boosted by a renovated plush toy line based on the new series, along with the rollout of a licensing and merchandising programme across many other categories. In Italy, a recent promotional agreement will see Mondadori Retail showcase YooHoo plush and books in four Mondadori Megastores and distribute plush across Mondadori's franchises. Mondo is also planning four in-store events in the four megastores, featuring YooHoo costume characters along with an engaging format to allow kids and their family to experience a unique interaction with the brand. This exposure will be further strengthened by a TV campaign from toy distributor Rocco Giocattoli to promote the plush line.
BLE will also be an opportunity for Mondo TV to tell visitors more about a major strategic cooperation agreement between Mondo TV Group and German company Toon2Tango GmbH & Co. KG., the new kids and family entertainment venture founded by television and movie industry legend Hans Ulrich (Ulli) Stoef.
The alliance will focus on developing, producing and distributing unique and high-quality programmes with strong merchandise appeal and will target the international market, where Mondo TV's main focus will be on Southern Europe and Asia. Toon2Tango will manage Northern and Central Europe and the English-speaking territories.
Matteo Corradi, Mondo TV CEO, says: "Mondo TV is really branching out this year at BLE, with thrilling, environmentally aware animated shows, a major push into the teen online entertainment market and one of the hottest toy brands on the planet. We're also getting together with Toon2Tango in a major new alliance. It's going to be a busy, exciting BLE. Come to stand B161 and we'll tell you more!"